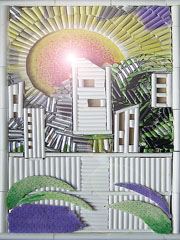 Welcome at THOR - AIR
Engineer Thomas Ripa had with the ventfilters following idea:
As head of a rotation operation, he had sought many ways to an optimal solution.
Steel wool, teflontubes, gravitational flaps, etc. It worked nothing about his performances. Often there were workpiece waste, steel woolremains worn the expensive recycling mills and furnaces were polluted by spillage.
After many years of test series is the result there, and many millions of filters ordered state that its customers in many countries are very satisfied.